CONTEMPORARY AMERICAN ITALIAN
Dessert Menu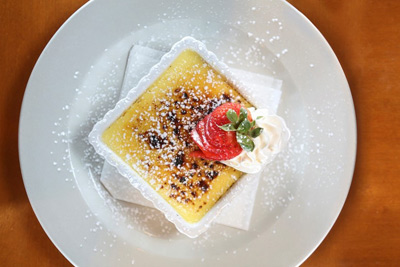 CRÈME BRÛLÉE 6
Rich baked egg custard with a brittle crust of caramelized sugar, topped with whipped cream and a strawberry.
TIRAMISU 8
Layered creamy rum flavored mascarpone cheese, espresso soaked lady fingers, espresso sauce.
CHOCOLATE DECADENCE CAKE 8
Rich moist chocolate layer cake, vanilla bean ice cream, fresh strawberries.
Lemon Ricotta CHEESECAKE 8
Blueberry compote.
APPLE CROSTATA 8
A warm baked crust with apple filling, pecans, caramel, vanilla bean ice cream.