CONTEMPORARY AMERICAN ITALIAN
Lunch Menu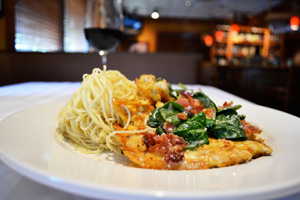 LUNCH COMBOS
CHEF'S DAILY SOUP (C/B) (Ask your server for today's soup choices) 4/5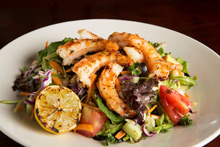 SANDWICHES
All sandwiches served with your choice of side
TRAVINIA CLUB
Grilled chicken, turkey, applewood smoked bacon, tomato, spinach,
smoked mozzarella, pesto mayo, 9 grain bread 9

TURKEY BLT
Applewood smoked bacon, fontina, field greens, tomato, mayo, focaccia 9

CHICKEN PESTO PANINI
Provolone, pesto sauce, field greens, tomato, red onion, ciabatta 9

CHICKEN MARINARA PIADINE
Goat cheese, grilled chicken, cucumber, romaine, pita bread 9

MAMBO ITALIANO
Capicola, pastrami, salami, roast beef, provolone, field greens,
tomato, red onions, balsamic vinaigrette, focaccia flatbread 11

SALMON BLT
Crisped spinach, dusted parmesan, applewood smoked bacon,
tomato, lemon aioli, ciabatta 12
--------
PIZZA or FLATBREAD (You Choose)

MARGHERITA
Tomato sauce, mozzarella, burrata, fresh basil, olive oil 12

UNCLE TONY'S FAVORITE
San Marzano red sauce, mozzarella, provolone, Italian sausage,
pepperoni, roasted garlic, red onions 13

VEGGIE
Roasted tomatoes, spinach, zucchini, mozzarella, garlic, ricotta 13

SERGIO'S SPICY SHRIMP
Shrimp, sausage, provolone, roasted red peppers, San Marzano
red sauce, basil, pesto, gouda 13

PESTO CHICKEN
Grilled chicken, mozzarella, provolone, pesto, wilted greens 10

PROSCIUTTO & FIG
Fig reduction, provolone, prosciutto di parma, baby arugula, tossed in lemon oil 13
--------
SALADS

ADD: Grilled Chicken Breast 5, Shrimp or Scallops* 6, Salmon* 8

HOUSEMADE DRESSINGS:
Caesar, Balsamic Vinaigrette, Three Herb Vinaigrette, Honey Mustard, Ranch

TRAVINIA HOUSE ✦
Iceberg garden greens, seasoned croutons, cherry tomatoes, cucumber 8

CAESAR * ✦
Classic romaine hearts tossed in Caesar dressing, seasoned croutons,
reggiano parmesan 8

ROASTED BEET & PEAR ✦
Baby arugula, goat cheese, red onion, walnuts, lemon oil 11

GRANNY SMITH APPLE ✦
Artisan greens, candied pecans, apples, red grapes, buttermilk blue cheese
crumbles, port-wine vinaigrette 10

SPINACH & GOAT CHEESE ✦
Baby spinach, crisped goat cheese medallions, red onions, egg, warm pancetta
vinaigrette 10

PESTO CHICKEN TORTELLINI ✦
Spinach, roasted tomatoes, pine nuts, golden raisins, tossed in pesto vinaigrette,
reggiano parmesan 13

AHI TUNA
Pan seared seasoned tuna, mangos, avocados, pickled ginger, wasabi, honey
lime vinaigrette 14

SHRIMP & BERRY
Grilled shrimp, iceberg garden greens, strawberries, pineapple, toasted pecans,
honey lime vinaigrette dressing 14
--------
SMALL PLATES
ZUCCHINI FRITTE
Crisped, parmesan, lemon aioli 9

ITALIAN NACHOS
Lightly fried chips, Italian sausage, black olives, tomatoes, scallions,
banana peppers, asiago cream sauce 10

PAN FRIED CALAMARI
Crisped, pan tossed, hot cherry peppers, garlic butter, scallions, marinara 11

ANTIPASTI
Prosciutto di parma, caprese salad, pepperoni, roasted peppers,
Tuscan salami, olive oil, marinated olives, focaccia crostinis 10

SHRIMP SCOPPIO *
C risped, roma tomatoes, green onions, tossed in spicy lemon aioli 10

JUMBO SEARED SCALLOPS * ✦
Artichoke pesto risotto 11

SPINACH & ARTICHOKE DIP
Asiago parmesan, baby spinach, villa frizzoni artichokes, pita bread 11

MUSSELS ✦
Garlic, basil, white wine, lemon butter, anisette, tomatoes, onions, crostinis 12

CRABCAKE TRAVINIA
Jumbo lump crabmeat, spinach-tomatoes orzo, lemon aioli 12
--------
HOUSE FAVORITES

CHICKEN PICCATA ✦
Lemon butter, white wine, capers, garlic, portabello, broccoli 12

CHICKEN MARSALA ✦
Colombo marsala wine demi-glaze, cremini mushrooms, fontina,
Yukon gold mashed potatoes 12

CHICKEN SCALOPPINE ✦
Artichoke hearts, mushrooms, smoked pancetta, lemon butter, asparagus 12

SINATRA CHICKEN ✦
Pan seared chicken breast, smoked pancetta, mozzarella,
Grand Marnier cream sauce, capellini 12

SALTIMBOCCA STYLE ALLA ROMANO
Prosciutto di Parma, mozzarella, sage, herbed lemon butter, roasted
fingerling potatoes 12

LOBSTER RAVIOLI
Lobster brandy tomato tarragon sauce 12

CHICKEN PARMESAN
San Marzano red sauce, mozzarella, provolone, Italian breadcrumbs, spaghetti 13

SHRIMP LINGUINE ALLA VODKA
Four cheese vodka tomato cream sauce, baby spinach, linguine 14

--------

PASTA & ITALIAN CLASSICS
ADD: Italian Sausage 4, Grilled Chicken Breast 5, Shrimp or Scallops* 6, Salmon* 8
SPAGHETTI BOLOGNESE ✦
Traditional bolognese sauce, reggiano parmesan (add meatballs or sausage 4) 11

FETTUCCINE TRAVINIA ✦
Grilled chicken, creamy alfredo sauce, broccoli, cherry tomatoes, garlic 11

LASAGNA BOLOGNESE
Traditional bolognese sauce, sausage, mozzarella, béchamel sauce, romano,
aged parmesan 12

PASTA MIA NONNA ✦
Bowtie pasta, grilled chicken, mushrooms, tomatoes, asiago cream sauce 12

POLLO ISABELLA ✦
Grilled chicken breast, cherry tomatoes, goat cheese, lemon basil beurre blanc,
baby spinach 12

SAUSAGE & PEPPERS RUSTICA ✦
Italian sausage, roasted red peppers, onions, oregano, basil, cavatappi, spicy marinara,
provolone 12

SHRIMP MESSINA ✦
Cremini mushrooms, spinach, toasted pine nuts, lemon butter, capellini 12

SHORT RIB RIGATONI ✦
Slow braised beef, roasted garlic, mascarpone, cream 13

TRAVINIA PESCATORA * ✦
Spicy lobster broth, shrimp, scallops, mussels, white fish, linguine 15


--------
SEAFOOD

MAHI MAHI *
Artichoke pesto risotto, cherry tomatoes, grilled asparagus, lemon beurre blanc 15
GROUPER PICCATA * ✦
Cherry tomatoes, capers, champagne citrus sauce, roasted seasonal vegetables 13
PINE NUT ENCRUSTED SALMON * ✦
Dijon, cherry tomatoes, lemon-basil beurre blanc , roasted seasonal vegetables 15
--------
SIDES
ARTICHOKE PESTO RISOTTO ✦ 4
ASPARAGUS 4
BROCCOLI 4
ROASTED FINGERLING POTATOES 4
SPINACH - SUNDRIED TOMATO ORZO 4
YUKON GOLD GARLIC MASHED POTATOES 5
ROASTED SEASONAL VEGETABLES ✦ 5
SMOKED GOUDA MAC & CHEESE W/ PANCETTA 5
ROASTED BRUSSEL SPROUTS W/ BALSAMIC GLAZE 5
✦ ✦ GLUTEN - FREE OPTION - This item is available gluten-free upon request. Gluten-free pasta or a gluten-free
side item will be substituted. All gluten-free entrées are an additional $1

* May be cooked to order. Consuming raw or under cooked meats, seafood, shellfish or eggs may increase your risk of foodborne illness especially if you have a medical condition.