Travinia Italian Kitchen continously updates their selection of wines for their wine lists, always adding new, exciting choices from world-class vineyards around the world.
Our guests always appreciate our thoughtful selections and affordability; we offer 61 wines by the glass, a reserve wine list by request, unique wine dinners, featuring hand-picked wines paired with the perfect entrées from our kitchen. For years, our customers have made Travinia their restaurant of choice — knowing every visit will afford the pleasure of discovering another great wine, and another superb experience.
WINES (
Tuesdays: 25% OFF All Bottles of Wine

)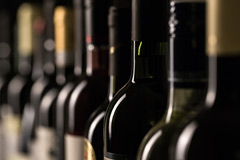 CRISP TO LUSH - WHITES
Placido Pinot Grigio, Italy 7/26
Willamette Valley Vineyards Pinot Gris, Oregon 9/34
Infamous Goose Sauvignon Blanc, New Zealand 8/30
Schug Sauvignon Blanc, Napa Valley 10/38
Chapoutier Belleruche Rose, Cotes du Rhone 9/34
Ferrari Carano Fume Blanc, Sonoma 12/46
Canyon Road Chardonnay, California 7/26
Hess Shirtail Ranches Chardonnay, Monterey 8/30
Errazuriz Max Chardonnay, Chile 10/38
Picket Fence Chardonnay, Russian River Valley 11/42
Sonoma Cutrer Chardonnay, Russian River Valley 12/46
Anselmi San Vincenzo White Blend, Veneto, Italy 10/38
SOFT, SWEET & BUBBLY
Allure Moscato, California 7/26
Grace Lane Riesling, Washington 7/26
Nino Franco Prosecco, Veneto, Italy 10/38
Bellagio Dolce Rosso, Emilia Romagna 8/30
Pierre Chainier Champagne, France 8/30
LIGHTER REDS
Salmon Creek Merlot, California 7/26
Spellbound Merlot, Napa Valley 8/30
10 Span Pinot Noir, Santa Barbara 8/30
MacMurray Pinot Noir, Central Coast 9/34
Elouan Pinot Noir, Oregon 10/38
Schug Pinot Noir, Sonoma Coast 11/42
Beran Zinfandel, California 11/42
Writers Block Syrah, Lake County 12/46
Rhiannon Red Blend, California 8/30
INTERESTING REDS AND BLENDS
Di Majo Norante Sangiovese, Italy 8/30
Cecchi Chianti, Tuscany 9/34
Banfi Chianti Classico, Tuscany 9/34
Mitolo "Jester" Shiraz, McLaren Vale 10/38
Amalaya Salta Malbec, Argentina 9/34
Zenato Valpolicella, Venato 9/34
E. Gugial, Cotes du Rhone Rouge 10/38
Brancia Tre Super Tuscan, Tuscany 12/46
THE BIG FINISH
Salmon Creek Cabernet Sauvignon, California 8/30
Concannon Cabernet Sauvignon, Paso Robles 9/34
Louis Martini Cabernet Sauvignon, Sonoma 10/38
Finca Decero Cabernet Sauvignon, Mendoza 11/42
Oberon Cabernet Sauvignon, Napa Valley 13/50
Carpe Diem Cabernet Sauvignon, Napa Valley 15/58
Steele Cabernet Franc, Lake County 12/44
FEATURED CORAVIN™ WINES
Access, pour and enjoy these Reserve Wines below without pulling the cork or purchasing the whole bottle.
Merry Edwards Sauvignon Blanc, Russian River Valley 15/58
Gary Farrell Chardonnay, Russian River Valley 15/58
Sanford Pinot Noir, Sta. Rita Hills 18/70
Emmolo Merlot, Napa Valley 19/74
Chateau Montelena Zinfandel, St. Helena 15/58
Lucente "Super Tuscan", Tuscany 15/58
Steele Red Hills Cabernet Sauvignon, Lake County 20/78
Bolla Amarone Della Valpolicella, Veneto 20/78
Castello Banfi Belnero Red Blend, Tuscany 18/70
Coyam Emiliana Red Blend, Chile 18/70
Sparkling
SPARKLING MULE
- Reyka Vodka, Canton Ginger Liqueur, lime juice, Nino Franco
STILETTO
- Grand Marnier, Orange Curacao, aromatic bitters, Zardetto Prosecco
SPARKLING SCREWDRIVER
- Hangar One Mandarin Vodka, OJ, sparkling wine
CHAMPAGNE MOJITOS
- Captain Morgan White, fresh mint, Pierre Chainier Champagne
WHISKEY FIZZ
- Tincup Whiskey, local honey, lemon juice, Lillet Rouge, sparkling wine
Classic Cocktails
OLD FASHIONED SINATRA
- Jack Daniels, Piloncillo simple syrup, aromatic bitters served over an ice ball
SIDE CAR
- Remy Martin VSOP Cognac, Cointreau, sour, lemon juice, sugared rim
BRANDY ALEXANDER
- Hennessy Cognac, Creme de Cacao, creme, nutmeg garnish
AMARO SUNRISE
- Nonino Amaro, New Amsterdam Vodka, muddled oranges & lemons, ginger beer
Bourbon
KENTUCKY MULE
- Bulleit Bourbon, Fever Tree Ginger Beer, sour, fresh mint, lemon juice
OLD FORESTER SIGNATURE SOUR
- Lillet Blanc, Angostura bitters, lemon juice, herbed syrup, orange peel, cherry
SPICED BLACKBERRY BRAMBLE
- Makers Mark, sour, spiced blackberry reduction, ice ball
NIC AND NORA MANHATTAN
- Woodford Reserve Bourbon, Carpano Antica Rosso Vermouth, Luxardo Maraschino liqueur
Cocktails
TUSCAN RED SANGRIA
- House mixture of red wines and juices
WHITE PEACH SANGRIA
- Chapoutier Belleruche Rose, Svedka Vodka, Monin Peach Nectar, cranberry juice
ITALIAN MARGARITA
- Milagro Silver Tequila, Disaranno, sour, OJ
STRAWBERRY BASIL COOLER
- Reyka vodka, Strawberry Basil infusion, fresh basil, soda
ITALIAN HONEY FIZZ
- Jack Daniels Honey, Tuaca, lemon juice, sugar, egg white, ginger ale
ANGIE DICKINSON
- Hendricks Gin, Canton Ginger, cucumber, fresh basil, lime juice
LEMON BASIL COLLINS
- Stoli, lemon basil syrup, soda
TEQUILA SUNSET
- Camarena Tequila, OJ, pineapple juice, Grenadine
Martinis
DOUBLE DIRTY
- Double Cross Vodka, olive juice, served with truffled blue cheese olives
BLOOD ORANGE COSMO
- Tito's, Solerno Blood orange, sour, triple sec, cranberry
KAMIKAZIBERRY
- Smirnoff Raspberry,Triple Sec, sour, lime juice, raspberry sugared rim
LIMONCELLO LEMON DROP
- Ketel One Citroen, sour, Caravella Limoncello, lemonade, sugar rim
VESPER
- Hendricks Gin, Stoli, Lillet Blanc, served up with a lemon peel
MY CAPTAIN
- Captain Morgan White, sour, Blue Curacao, pineapple juice
ITALIAN SUNRISE
- New Amsterdam Vodka, OJ, sour, grenadine
MARILYN
- Finlandia Grapefruit Vodka, St Germain, ruby red grapefruit, sour, lemon juice
HOUSE POURS
SMIRNOFF VODKA
OLD FORESTER BOURBON
NEW AMSTERDAM GIN
JACK DANIELS WHISKEY
CAPT. MORGAN WHITE RUM
JOSE CUERVO TEQUILA
JOHNNIE WALKER RED
DRAFT BEER
PERONI
SAM ADAMS
ASK ABOUT OUR REGIONAL & CRAFT BEERS
BOTTLED BEER
MILLER LITE
COORS LIGHT
CORONA
GUINNESS
BUDWEISER
BUD LIGHT
HEINEKEN
MICHELOB ULTRA
MORETTI
O'DOULS AMBER
BEVERAGES
COKE, DIET COKE, SPRITE, MR. PIBB, GINGER ALE CLUB SODA, TONIC
HOMEMADE LEMONADE (Regular or Strawberry)
100% COLOMBIAN COFFEE
LUZIANNE TEA
CAPPUCCINO, ESPRESSO
SAN PELLEGRINO SPARKLING
ACQUA PANNA STILL